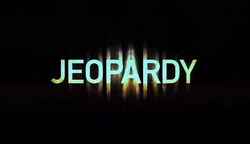 Jeopardy was a BAFTA award-winning Scottish television series which ran for three series, from 2002 to 2004, CBBC on BBC One.
JEOPARDY NOW AVAILABLE FOR DVD. FOR MORE INFO CONTACT mattstollery08@gmail.com
The series was produced for CBBC Scotland and filmed on location in both Scotland and Australia. CBBC currently have no plans for it to be re-aired, the last re-run being in 2008. In 2002 the British Academy of Film and Television Arts (BAFTA) awarded the first series Best Children's Drama.
As of yet, the series has not been released on either VHS or DVD but can be found in full on youtube.
I have released Jeopardy on DVD however you will have to contact mattstollery08@gmail.com for further information.
DVD or USB
Edit
hi everyone.
Buy Jeopardy on DVD or USB for:
$10 per series on DVD
$15 per series on USB or $30 for the whole three series. ..... Or just watch them for free on youtube
Storyline
Edit
The show is about a group of eight high-school students and their teacher who go from Falkirk, Scotland, to the Australian bush to look for UFOs. They are given camcorders to record any sightings, and the series (much like the Blair Witch Project) makes extensive use of jerky footage supposedly from those handheld cameras.
Like us on Facebook: https://www.facebook.com/pages/Jeopardy-CBBC/233153780228967
Characters
Edit
Episodes
Edit
Main Article: Episode Guide
Jeopardy is a CBBC series about eight high school students who go looking for Aliens, which ran on CBBC on BBC One from the 26th of April 2002 – 2nd of September 2004. The series lasted for a total of forty episodes spread of three series of the show.
Jeopardy DVD. get info from contacting mattstollery08@gmail.com
See Also
Edit